Last week I received a little pamphlet from the city about a new recycling/energy efficiency program they are kicking into gear focusing on the collective ecopower of modern communal livers..aka..apartment dwellers.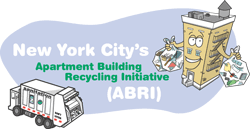 Awhile back I too considered the positive side of compact living and certainly have plenty of opinions and ideas for what I would like to see done. (Although…my community progress has been…quite frankly sad.) What the program really comes down to is creating not so glorified hall monitors.
The city would send a building representative for a course on recycling and offer evaluation tools and supplies with the hope that said rep would go back and whip the building and its tenants into eco shape.

Now…I am of two minds on this. The education & supplies part would be great. However…it seems to me with either people recycle or they don't. Not sure how to change that.

I know our board president, who has a lot more power than the little ol' Needle, has an eye for the green but hasn't had a whole lot of success pushing green policies through. (Although…we did get light timers put in the laundry room which must save those lights hours of shining.) Now I know there are some diligent recyclers and others who are just open minded to new ideas.

Buuuuuuuuut there are also those who are still thrown for a loop by our 4 part recycling system(glass, paper, metal, 1&2 plastic…which included pictures…yes pictures…above the cans…in color.

AND even worse than that…again…to be frank…there are a lot of miserable f***ing people in the world…and many of them have chosen my little corner of the earth to plant their cranky asses. These particular people complain endlessly about the slightest imperfection in their day…like having to pass toddler art on a neighbor's door on their way to their own perfect abode. And they know everything of course. You know…the if they don't already do it-it isn't worth doing sort of people…because how on earth could someone else know better. Do I really think any of the self-absorbed set are going to take ten seconds to even HEAR a new idea let alone try it? And more importantly do I want to be the do-gooder that all of their fury is aimed at? And these are totally the types who love to find a fatal flaw…like the fact that I have a car. Don't know if I could handle the scrutiny…I'm not exactly green perfection. And I do have to actually live with these people. Hell some of these grumps are even my friends. Well…were…before this post. As much as I would like to see strides made in our building in the form of energy efficiency – just don't know if I want my name or face attached…rather be a suggester and ducker…you know…an eco-weenie. Seriously…I have enough people throwing food at me during the day. At least I hope it's food.